LIMITED EDITION DOUBLE PRINT RELEASE

Sunday 5th February 12pm (GMT)
Live for 30 minutes ONLY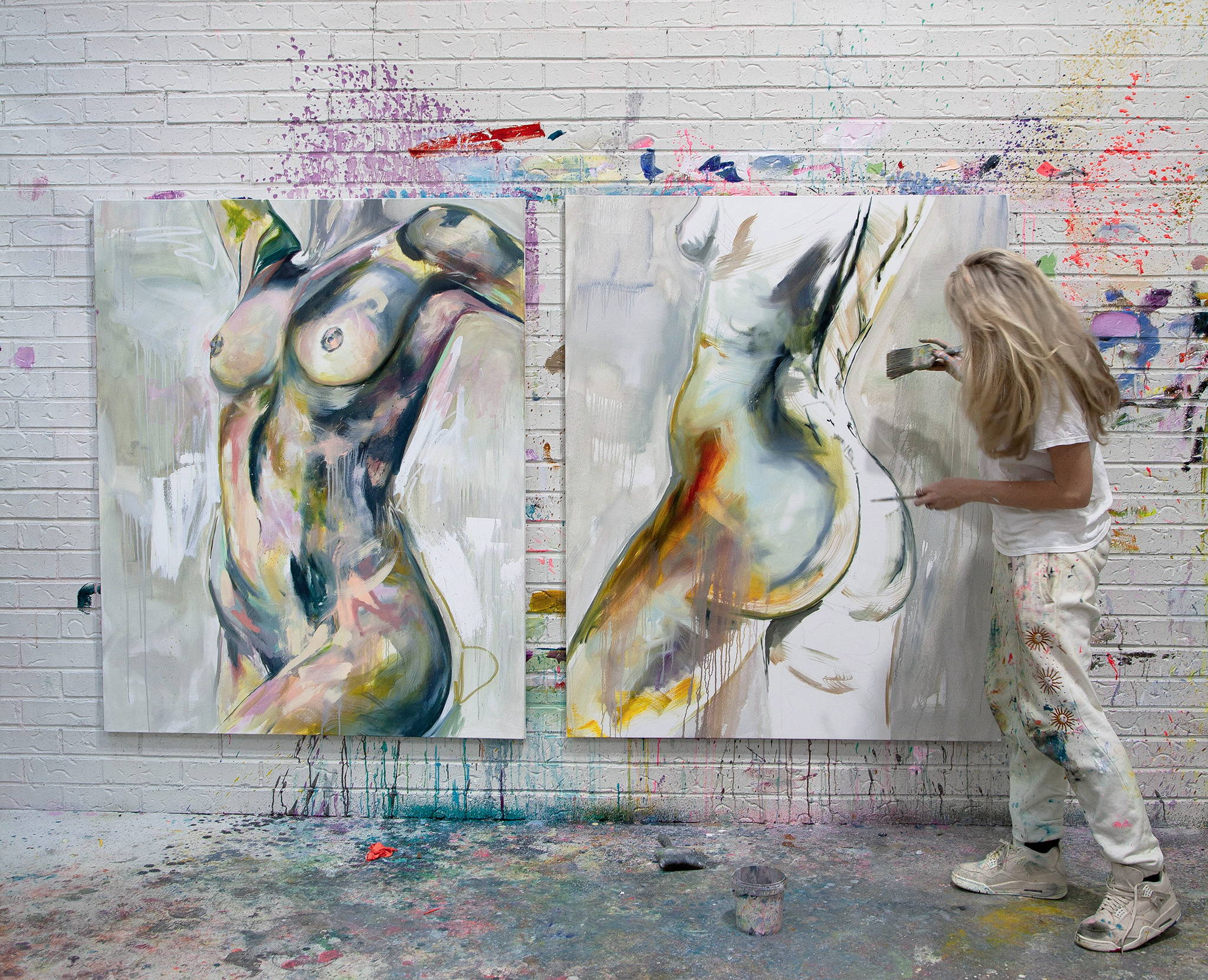 Hiya loves!


I'm excited to share with you something special in the making...
As you may know, over the past year and throughout my 'Grow' collection of works, I have been perfecting my technique of using oil paint in my practice. This has opened up so many possibilities and taken the colours, depth and detail of the pieces to a whole new level. Despite moving on from painting Nudes, I wanted to do something special in celebration of the launch of my SEND NUDES coffee table book and recently turning 30...
It had to be a Nude.
Using everything I have learnt from the past year and a half, I am painting two Nude pieces of myself using oil. I will be releasing these pieces as a super limited edition double XL print. I want to recognise how much i've grown as an artist and pay homage to all of my beautiful nudies around the world who are my constant inspiration. Since I am a 1993 baby, there will be just 93 editions of each print available and as this birthday is the big 30, you will have a limited time of just 30 minutes to purchase one. Be quick!
Obviously, these are still my early layers so I will be sharing more photographs of each and every layer I add in the next couple of days. Keep your eyes peeled on Instagram for updates.
All the information you need to know about the release is below, but make sure you sign up to the waitlist to get 30 minutes (extra) pre-release.
Sunday 5th February 12pm (GMT)
Live for 30 minutes ONLY
Limited edition of 93 of each piece
£1,200 individually, £2,000 together
XL
Unframed
These prints are high resolution scans of the Original Artwork. Archival Pigment Print on Finest Premium Paper.
£1,200 each
Purchase both together and receive a £400 discount off your order!
(£2,000 for both prints)
Includes worldwide delivery and taxes
Paper size: 800mm x 990mm
Image size: 770mm x 960mm
These pieces are print-only so you can pop them in any frame you like once you receive it. They arrive rolled in a tube with a certificate of authenticity. All ready for you to frame however you would like!

Yes, all will be hand signed by Sophie Tea

CAN I PAY IN MONTHLY INSTALMENTS?
Yes, you can! Our new system Partial.ly makes your instalment plans easier to manage. You will need to create an account on Partial.ly so you are set up ready for when the products are released!
You will then have the option to pay for your print in monthly instalments. There will also be an option to increase your down payment and tailor your instalment plan, making it flexible depending on your preference. You don't need to have finished all your instalments to receive your print, we will send it out as soon as your first payment has been made.
Making payments through Partial.ly is super easy and secure! Once you have created your account and your payment schedule is set up, you can pay each instalment by credit card, debit card, or bank account until you've paid your balance in full. Partial.ly does not require any credit checks and is interest free.
You can read more about how this works here.
All our prints are made to order and packaged carefully in bespoke packaging by our team in Sydney. You can expect your special delivery within 6-8 weeks and we'll make sure to send you shipping updates as soon as your piece is on its way to you. Don't worry if you're not in, there are options to amend your delivery!
These prints will be available to purchase online from 12pm (GMT) Sunday 5th February
As always, if you are signed up to our newsletter you will have access to 30 minute pre-release at 11.30am (GMT)… meaning you can get your hands on one before everyone else.
If you have any questions about the print please pop an email over to the team studio@sophieteaart.com
Thanks so much for being here!
Lots of love always,
Sophie Tea
xxxxxx